It is operated with RF remote control and Scoreduino app via Bluetooth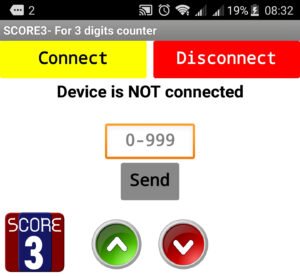 This is a 3 digits up and down counter based on Scoreduino or Arduino. It can be operated with Scoreduino app and RF remote control.
When operated with Scoreduino app, users can send specific number to the displays. For example, if a user send 999 from the app, the up down counter displays 999. There are two buttons to increase or decrease the count.
It is available in two sizes, 2.3″ and 3″. A 2.3 inch counter works with 9V and 3 inch works with 12V power supplies.
A 3 digits up/down counter works with SCORE3 module of the Scoreduino app.